Curriculum
The Warwickshire Academy delivers a differentiated curriculum for children and young people aged between 9 and 19 years who have a predominant need of Social, Emotional and Mental Health (SEMH) difficulties alongside conditions such as ADHD, ASD and attachment disorder.
At The Warwickshire Academy we deliver a holistic curriculum that holds high academic aspirations whilst acknowledging progress and attainment is facilitated through the development of the child as a whole. Each student's offer is personalised to ensure the best opportunities to reach individual potential.
Students are placed from Warwickshire and Coventry Local authorities, and all have an Education and Health Care Plan (EHCP). As a result of previous difficulties, many of our students will have been unable to access an educational curriculum effectively. We provide a curriculum that is broad and balanced, based on the realities of modern life and delivered in a supportive learning environment.
Our ambitious curriculum is aimed at closing the attainment gap that many of the students have when they join the academy. Our objective is that all pupils achieve GCSE qualifications, or equivalent, in every subject that they study. In Key Stage 4, pupils are offered vocational qualifications in an environment that is built around preparing the pupils for their next steps in life through their individual programme of study.
Learning Journey
Each students learning journey defines the knowledge and skills they will develop as they progress through each curriculum area. We move from a thematic approach with content delivered in line with national curriculum expectations in key stage 2 towards a discrete approach to the national curriculum in key stage 3 and 4.
Embedded within this is our "common threads" which run throughout the school that we call our LACES and these tie our curriculum together
Life Skills
Academic
Communication
Emotion
Social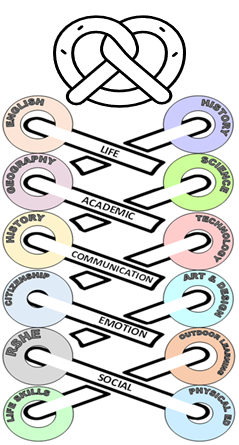 Curriculum Key Stages
Key Stage 2 – Every Key Stage Two class has their own allocated 'pod'. Each classroom provides multiple environments with a main learning area, a messy play area, a small group calm room/class reading corner, and an individual calm zone with sensory input and an outside area. The curriculum focuses on engagement and a love for learning through a rounded and enriched curriculum. Pupils will cover the National Curriculum which will incorporate British values, RSHE, SMSC and Citizenship.
Key Stage 3 – Pupils are grouped in their individual year groups. Learning covers the National Curriculum. Year 9 pupils will also be able to try out different options and vocational subjects to prepare them for choices in Key Stage 4.
Key Stage 4 – Pupils in years 10 and 11 are taught in separate year groups. Pupils in KS4 can work towards a range of qualifications including GCSE, Functional Skills and Vocational qualifications. We follow pupils' interests and future career choices and provide additional relevant qualifications where possible. Personalised options are dependent on choice with pupils required to make 3 option choices for GCSE or qualification.
Key Stage 5 – Our Key Stage 5 offer is bespoke to each pupil. Pupils are offered qualification and accreditation which builds on prior learning in both core subject areas and vocational learning. Pupils also continue to undertake sessions addressing wellbeing, personalised support and future options.
English and Maths
English and Maths are key skills in all pupils' learning and all learners are entitled to quality experiences in these areas. The teaching of these two core subjects is the responsibility of all staff at The Warwickshire Academy. We understand the importance of these subjects so therefore they are planned for across our curriculum.
We have ensured the following:
That there are areas in all parts of the curriculum to allow pupils to practice these skills.

Schemes of work have opportunities for English and Maths skills included and identified.

Create positive and attractive environments that celebrate English and Maths through the academy.

The promotion of correct English and ambitious vocabulary is always used.

Highlight the use of English and Maths within subject areas to pupils.

Work in all subjects has spellings corrected.

Key vocabulary for each lesson is displayed.

Ambitious vocabulary used.

Key mathematical objectives, such as telling the time, is targeted throughout the academy.

Develop speaking and listening skills through projects.